Obsome,sm,The story of a leg,it,La historia di homeland,mt,Physicist,it,- Fractures of the bones,it,Free bone fragments and bone crack,it,Great blood loss,it,Emotional,it,- Aggression on the street of a,it,fake friend,it,who organized the attack on the street,it,Mental,it,- Struggle for survival in a complex situation in which life and death were very close,it,Arrival in,it,Zagreb,it,- deep venous thrombosis,it,massive edema,pt,- Sopression of anger and fear,it,I don't have time to express emotions,it,- despair,it,weeks of immobile bed and awareness of the possibility that some thrombus detaches with possible serious consequences,it,First homeopathic remedy,it,Arnica 30ch,en,Arrival at home a,it,late December,it,- Crutches,it,pain,it,still partially open wound,it,fever,it: La Storia di una gamba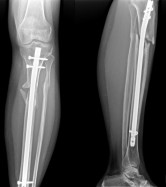 Novembre 2016 La storia di Patrija
Fisico – fratture delle ossa, frammenti ossei liberi e fessurazione delle ossa, grande perdita di sangue
Emotivo – Aggressione in strada di un "falso amico" che ha organizzato l'attacco in strada
Mentale – Lotta per la sopravvivenza in una situazione complessa in cui la vita e la morte sono state molto vicine.
Arrivo a Zagabria, December 2016
Fisico – Trombosi venosa profonda, edema massivo, insonnia
Emotivo – Sopressione di rabbia e paura (non ho tempo per esprimere le emozioni)
Mentale – disperazione, 3 settimane di letto immobile e consapevolezza della possibilita che qualche trombo si stacca con possibli conseguenze gravi
Primo rimedio omeopatico: Arnica 30ch
Arrivo a casa a Zagabria, fine dicembre 2016
Fisico – Stampelle, dolori, ferita ancora parzialmente aperta, febbre 40
Emotivo - relief of being home safe,it,fear of trombosis,it,drugs and diet adjustment,it,sudden awakenings at night reliving the agression of a month ago,it,- feeling of being lost,it,where am I,it,what happened,it,what I do,it,The image of reality is blurred,it,Beyond drugs against blood coagulation,it,In the evening I use cannabis oil,it,The only moment of the day when the body relaxes,it,I have no pain,it,And I forget that I am injured and I fall asleep - I still don't understand that the side effects of cannabis are serious,it,Travel to,it,Milan - January,it,Complicated situation,it,the real image and even more blurred by cannabis,it,We resume the anamnesis,it,Anca dislocation during childbirth,it,cysts to the ovaries,it, paura di una trombosi (farmaci e regolazione di dieta), improvvisi risvegli di notte rivivendo l'agressione di un mese fa.
Mentale – Sensazione di essere persa (dove sono, che cosa e successo, cosa faccio), l'immagine della realtà è offuscata.
Oltre i farmaci contro la coagulazione del sangue, di sera uso l'olio di cannabis. L'unico momento del giorno quando il corpo si rilassa, non ho dolori, e mi dimentico che sono ferita e mi addormento – non capisco ancora che gli effetti collaterali della cannabis sono gravi.
Viaggio a Milano – gennaio 2017
Situazione complicata (l'immagine reale e ancora piu offuscata dalla cannabis.
Riprendiamo l'anamnesi: lussazione dell'anca durante il parto, cisti alle ovaie, The last years broken foot ligaments,it,Fractures in the Colona and the Basin,it,Fracture tibia and perone,it,thrombosis,it,Choice of treatment,it,I decide for a systemic approach,it,Not only to the palliative help of superficial physical symptoms,it,Let's start the cure taking into consideration the deepest and most serious symptoms that harm my freedom,it,Opium XMK single -dose remedy,it,Milan - February,it,- leg and veins,it,unaltered,it,amputation risk,it,- difficult dreams with strong emotion,it,- Slow and numb mind,it,overload,it,Homeopathic remedy,it,Tubercolinum XMK,en,single -dose,it,- Direction of the treatment to blood vessels,it,Milan - March,it,The picture of the disease is not clear and does not show stable symptoms,it,decision,it, fratture alla colona e al bacino, frattura tibia e perone, trombosi.
Scelta di trattamento: "decido per un'approccio sistemico, non solo ad un aiuto palliativo dei sintomi fisici superficiali"
Cominciamo la cura prendendo in considerazione i sintomi più profondi e gravi che ledono la mia libertà rimedio Opium XMK monodose.
Milano – febbraio 2017
Fisico – gamba e vene, inalterate, rischio amputazione
Emotivo – Sogni difficili con forti emozione
Mentale – Mente lenta e intorpidita, sensazione di sovraccarico
Rimedio omeopatico: Tubercolinum XMK (monodose) – direzione della cura ai vasi sanguigni
Milano – marzo 2017
Il quadro della malattia non e chiaro e non mostra sintomi stabili (decisione: We wait for the right time and give the body time to do their job - to give the homeopathic remedy there is a need to have clear and stable symptoms,it,Milan - April,it,- Obvious improved circulation,it,confirmed with the Doppler,it,Symphytum officinale XMK GOCCE,la,- direction of care,it,bones,it,Milan - May,it,- Stable improvement of circulation,it,interruption the therapisa anticoagulant,eo,The bones do not show any improvement,it,Fosforica limestone xmk drops every day,it,per,en,months,it,Directorate of care,it,union of bone fragments that at present do not show calcifications,it,merger,it,Milan June,it,Initial aggravation,it,Subsequently there is an improvement on the emotional and mental level,it,Milan - September,it,- No improvement,it,effective obstacle to healing,it)
Milano – aprile 2017
Fisico – Evidente circolazione migliorata, confermato col doppler
Symphytum officinale XMK gocce – direzione di cura: le ossa
Milano – maggio 2017
Fisico – Miglioramento stabile della circolazione, interrompo la terapisa anticoagulante; le ossa non mostrano alcun miglioramento.
Calcarea fosforica XMK gocce ogni giorno per 2 mesi – direzione della cura: unione dei frammenti ossei che allo stato attuale non mostrano calcificazioni. fusione)
Milano giugno 2017
Iniziale aggravamento, successivamente si registra un miglioramento sul piano emotivo e mentale.
Milano – settembre 2017
Fisico – Nessun miglioramento, ostacolo effettivo alla guarigione, Bone fragments are missing,it,Emotional and mental,it,- I feel great,it,convinced that I don't need any remedy,it,Directorate of care,it,Eliminate the block,it,Syphyllinum xmk single -dose and then after,it,weeks,it,Drops per day,it,UP TO HERE,it,to complete correction,it,I lose patience,it,At the hospital we agree that,it,If there is no sign of ossification until September,it,We continue with the reconstruction of the leg by transplanting the bone from the pelvis and I was looking forward to ending it,it,In Milan we agree to go to the hospital at least a week after the plan to see the reaction to Syphyllinum,it,despite being tired of all these months with crutches and having a great desire to arrange the leg,it,I decide to wait,it,Zagreb September,it
Emotivo e mentale – mi sento benissimo, convinta che non ho bisogno di nessun rimedio
Direzione di cura: eliminare il blocco (Syphyllinum XMK monodose e poi dopo 3 settimane 2 gocce al giorno)
FINO A QUI ??????????? da completare correzione
Perdo pazienza: all'ospedale ci siamo messi d'accordo che, se non c'e nessun segno di ossificazione fino a settembre, proseguiamo con la ricostruzione della gamba trapiantando l'osso dal bacino e io non vedevo l'ora di farla finita; a Milano ci mettiamo d'accordo di andare all'ospedale almeno una settimana dopo del piano per vedere la reazione a Syphyllinum (pur essendo stanca di tutti questi mesi con le stampelle e avendo un grande desiderio di sistemare la gamba, mi decido di aspettare)
Zagabria settembre 2017
10 days later Syphyllinum for the first time on the rays and a small strip of callus is shown,it,We agree to try to make a small intervention with little probability of success before deciding for complete reconstruction,it,Milan - October,it,We are waiting for and prepare for the intervention and recovery,it,Opium if necessary and Arnica after surgery,it,Zagreb - October,it,A screw was removed after which I give my best by walking without crutch to force the pressure and using your weight to move and bring bone fragments closer and decrease their distance,it,The control rays after,it,days show that I moved the bones and we agree to wait,it,If there is no ossification,it: ci mettiamo d'accordo di provare a fare un piccolo intervento con poca probabilita di successo prima di deciderci per la ricostruzione completa
Milano – ottobre 2017
Aspettiamo e mi prepariamo per l'intervento e il recupero (Opium se necessario e Arnica dopo l'intervento chirurgico)
Zagabria – ottobre 2017
Una vite e stata tolta dopo di che do il mio meglio camminando senza stampella per forzare la pressione e usando il proprio peso per muovere e avvicinare i frammenti ossei e diminuire la loro distanza
I raggi di controllo dopo 10 giorni mostrano che ho spostato le ossa e ci mettiamo d'accordo di aspettare 3 mesi: se non c'e ossificazione, the great intervention is done,it,Milan - November,it,Arrival with a new symptom,it,Apart from that after Syphyllinum, the congratulating fabrics began to show a regenerative reaction,it,It seems that still a block is put aside and a great sign of creativity is shown,it,I'm pregnant,it,Using the drops of,it,Phosphoric calculation,ro,We help the ossification of the two bodies,it,I let that,it,- Augmented circulation and pregnancy hormones give bones a higher regeneration potential,it,- taste in all the beautiful emotions that pregnancy brings,it,- with full confidence in life,it,In addition to the family,it,I direct all my energy to study to make a new profession,it,The leg that is now short,it,cm,en,with the bones that are not raised,it,Zagreb November,it,Situation,it
Milano – novembre 2017
Arrivo con un sintomo nuovo: a parte che dopo Syphyllinum i tessuti conettivi hanno cominciato a mostrare una reazione regenerativa, pare che ancora un blocco sia messo da parte e si e mostrato un grande segno di creativita (sono incinta)
2018
Usando le gocce di Calcarea Fosforica (aiutiamo l'ossificazione dei due corpi), lascio che:
– Fisico – la circolazione aumentata e gli ormoni della gravidanza diano alle ossa un potenziale di rigenerazione piu alto
– Emotivo – gusto in tutte le belle emozioni che la gravidanza porta
– Mentale – con la piena fiducia nella vita, oltre alla famiglia, dirigo tutte le mie energie allo studio per fare una nuova professione
La gamba che adesso e corta (2,5 cm) con le ossa non alineate.
Zagabria novembre 2018
Situazione: 4 months later I leave the leg of the leg,it,There is no ossification,it,And slowly the third intervention,it,The reconstruction of the leg with the bone transplant from the iliac crest,it,He expects the leg to shorten again,it,cm and after a few years the extension is made,it,New very long and painful intervention,it,Zagreb December,it,During the intervention it is seen that all the time the body continued to produce bone,it,But there was no ossification due to the scarce and mobilization of the fragments,it,After the correction of the rash, the leg stretches,it,We still do not know the precise dimensions,it,But now the difference between the two legs and between,it,Arnica,en,Then a lot of phosphoric limestone 10mk,it,Milan April,it,Ossification,it,Finally,pt,Walk without crutches or stick,it,Difficult to support the foot walking,it. Non c'e ossificazione. E in piano il terzo intervento: la ricostruzione della gamba col trapianto d'osso dalla cresta iliaca. Si aspetta che la gamba si accorcia ancora 0,5-1 cm e dopo qualche anno si fa l'allungamento (nuovo intervento molto lungo e doloroso).
Zagabria dicembre 2018
Durante l'intervento si vede che tutto il tempo il corpo continuava a produrre osso, ma non c'era ossificazione per via della fissazione scarsa e mobilita dei frammenti. Dopo la correzione dell'alineamento la gamba si allunga (non sappiamo ancora le dimensioni precise, ma adesso la differenza fra le due gambe e tra 1-1,5 cm).
Arnica 200, poi tanta Calcarea fosforica 10MK
Milano aprile 2019
Ossificazione!!! Finalmente. Cammino senza stampelle o bastone. Difficile ad appoggiare il piede camminando (tends to tilt on the side edge,it,Syphillinum MK,en,The day after the foot supports well,it,Syphillinum 10MK,en,mental,it,Great creativity,it,Finally mom,it,Even marriage,es,Written autobiographical book,it,Translated homeopathic book,it,Exam data of the first and second year,it,homeopathy school,it,Started working with patients,it,shortening leg,it,clinic,it,bone fracture,it)
Syphillinum MK (il giorno dopo il piede appoggia bene)
Syphillinum 10MK
Emotivo e mentale 2018 e 2019
Grande creativita.
Finalmente mamma. Matrimonio incluso.
Scritto libro autobiografico.
Tradotto libro omeopatico.
Dati esami del primo e secondo anno (scuola d'omeopatia).
Cominciato a lavorare coi pazienti.